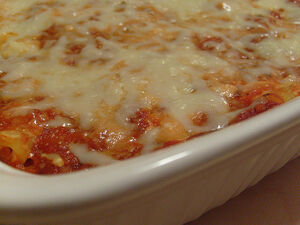 Prep Time: 30 minutes
Cook Time: 1 hour
Yields: 4, with leftovers
Description
Edit
Tasty vegetarian pasta treat, perfect on a cold night.
Ingredients
Edit
Sauce:
1 small green (or red) bell pepper, chopped
1 large carrot, finely chopped
Directions
Edit
Coat 9"x12" pan with cooking spray (bottom and sides)
Cook the Pasta:
1. Cook the ziti according to directions; make sure it's not overdone, you want it a bit al dente. 2. Drain well and return to cooking pot.
Make the Sauce:
While pasta is cooking, make the sauce.
1. Sautee garlic, onion, peppers and carrots in skillet with 1-2 tsp olive oil until tender (onions should be translucent) - about 10 minutes.
2. Add oregano and salt, stir. Add jar of tomato sauce and allow to simmer for 5-8 minutes, stirring as needed.
Build It:
1. Spread about 1/3 of the sauce on the bottom of the casserole dish
2. Layer 1/2 of the pasta, followed by the ricotta cheese and 1/2 of the mozzerella and parmesan cheeses.
3. Spread 1/3 of the sauce and sprinkle with 1/2 of the mozzarella
4. Add a layer of the remaining pasta and cover with sauce
5. Finally, top with breadcrumbs and remaining mozzarella and parmesan cheese
Cook It:
Bake covered for 45 minutes, then uncover and bake for an additional 15-30 minutes or until cheese is melted and sauce is bubbling around the edges. Let stand for 15 minutes before serving.
Ad blocker interference detected!
Wikia is a free-to-use site that makes money from advertising. We have a modified experience for viewers using ad blockers

Wikia is not accessible if you've made further modifications. Remove the custom ad blocker rule(s) and the page will load as expected.