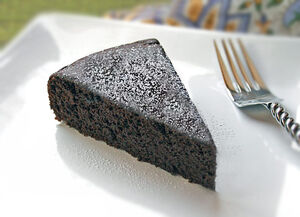 Prep Time: 15 minutes
Cook Time: 45 minutes
Yields: 8 servings
Description
Edit
Satisfy your sweet tooth with this piece of heavenly goodness! A simple remix from the original chocolate cake recipe, we've replaced all-purpose flour with rice flour. Mmm!
Ingredients
Edit
1 1/2 cups rice flour
1 cup white sugar
1/4 cup cocoa powder
1 teaspoon baking soda
1/2 teaspoon salt
1/3 cup vegetable oil
1 teaspoon vanilla extract
1 teaspoon distilled white vinegar
1 cup water
Directions
Edit
1. Preheat oven to 350 degrees F. Lightly grease one 9x5 inch loaf pan.
2. Sift together the flour, sugar, cocoa, baking soda and salt. Add the oil, vanilla, vinegar and water. Mix together until smooth.
3. Pour mixture into prepared pan and bake at 350 degrees F for 45 minutes. Remove from oven and allow to cool.
4. Serve.
Ad blocker interference detected!
Wikia is a free-to-use site that makes money from advertising. We have a modified experience for viewers using ad blockers

Wikia is not accessible if you've made further modifications. Remove the custom ad blocker rule(s) and the page will load as expected.