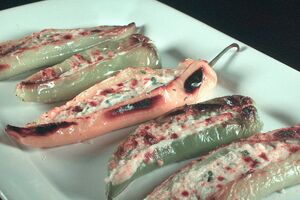 Prep Time: 20 minutes
Cook Time: 45 minutes
Yields: 6 servings
Description
Edit
These delectably cheesy peppers are best served over a bed of spanish rice with additional enchilada sauce poured on top. Or if you'd prefer to enjoy them as a snack, serve with guacamole and sour cream.
Ingredients
Edit
6 large banana peppers, rinsed and dried
2 cups grated Colby Jack or Mozzarella cheese
1 can Las Palmas Green Chile Enchilada Sauce
1 hothouse tomato, chopped
1 large white onion, diced
6 slices of Monterey Jack cheese
1lb lean ground beef (season with mexican flavor)
Directions
Edit
1. Slice off tops of banana peppers and remove seeds and pulp. Do the same for the removed top.
2. In a large saucepan, combine chopped tomatoes, diced onions, and enchilada sauce. Cook for 15-20 minutes or until enchilada sauce begins to boil and tomatoes become soft.
3. Preheat oven to 375 degrees.
4. Arrange peppers in a casserole or baking dish and generously stuff with cheese. Baste with enchilada sauce. Be sure to leave a good amount of enchilada sauce in the casserole dish.
5. Cover the dish with aluminum foil and place in the oven for 45 minutes. After 45 minutes, remove casserole dish from oven, and place a slice of Monterey Jack cheese over each banana pepper.
6. Return dish to the oven and allow to bake for additional 5-8 minutes, or until cheese has melted.
7. Once cheese has melted, remove from oven and allow banana peppers to cool at least 10 minutes before serving.