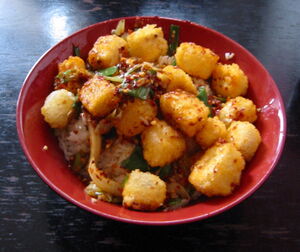 Prep Time: 10 minutes
Cook Time: 10 minutes
Yields: 2-4
Description
Edit
Spicy stir-fry tofu
Ingredients
Edit
Directions
Edit
Heat pan, add olive oil (heat oil until very hot but not smoking).
Squeeze and dry tofu with a paper towel, cut tofu into small (½ inch) cubes.
Add tofu to oil, fry until brown.
Add spices to even coat the tofu.
Stir.
Add chopped garlic.
Continue to cook until tofu is evenly coated in spices.
Add soy sauce and yeast.
Cook until spices and tofu have blended.
Add extra spices to taste if desired.
Ad blocker interference detected!
Wikia is a free-to-use site that makes money from advertising. We have a modified experience for viewers using ad blockers

Wikia is not accessible if you've made further modifications. Remove the custom ad blocker rule(s) and the page will load as expected.