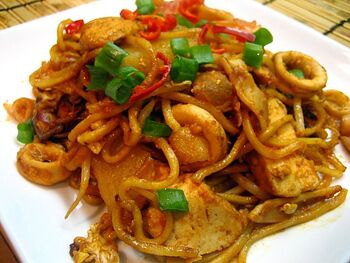 Description
Edit
This recipe is from Yotam Ottolenghi's vegetarian cookbook "Plenty". It was published in guardian.co.uk
Ingredients
Edit
Directions
Edit
Set a wok or a large pan over a high heat.
Once hot, add the oil and then the onion, and cook for about a minute, to soften a bit.
Add the tofu and french beans, and cook for two to three minutes, so the tofu takes on a bit of colour.
Stir gently as you cook, trying not to break up the tofu.
Next, add the choi sum.
When it wilts, add the noodles and carefully spread them in the wok using tongs or large chopsticks.
You want the noodles to get a lot of heat, almost to fry.
Mixing gently, cook the noodles for about two minutes.
Now add the spices, sambal oelek, soy sauces, water and beansprouts, and toss carefully.
Cook for about a minute, or until the noodles are semi-soft.
When done, top with lettuce, transfer to two serving bowls and sprinkle with some crisp shallots.
Serve at once, with lemon wedges and a small bowl of extra sambal oelek on the side.
Ad blocker interference detected!
Wikia is a free-to-use site that makes money from advertising. We have a modified experience for viewers using ad blockers

Wikia is not accessible if you've made further modifications. Remove the custom ad blocker rule(s) and the page will load as expected.