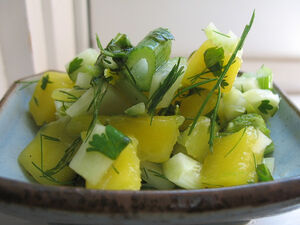 Prep Time: 20 minutes
Cook Time: 20 minutes
Yields: 4 cups
Description
Edit
Sweet and spicy, this Fennel Mango salad goes lovely with grilled meat or tortilla chips. Enjoy!
Ingredients
Edit
1 large mango, diced
1 large fennel bulb, diced
1/2 red onion, chopped
1/2 cup banana pickled peppers, chopped
1 bunch cilantro, chopped
2 tablespoons honey
3 tablespoons fresh lemon juice
salt and pepper to taste
Directions
Edit
1. Combine all ingredients in a bowl and mix thoroughly, making sure that the honey coats all parts of the mixture. Allow mixture to chill for at least 20 minutes before serving.
Ad blocker interference detected!
Wikia is a free-to-use site that makes money from advertising. We have a modified experience for viewers using ad blockers

Wikia is not accessible if you've made further modifications. Remove the custom ad blocker rule(s) and the page will load as expected.